Hi All,
To make Walter his FB DIY board compatible with the POSITAL inclinometer for EL and GPS reception
I build another ADDON board that can be plugged in. (U2 IC).
It contains all parts for AZ (MAB25- ETS25 – HH12 – HH16) and Posital ACS-360-1-S101-VE2-AW (10m cable) or
ACS-360-1-S101-VE2-5W(5m cable) inclinometer for EL.
Also a real serial port is added for G4NJT GPS module or PC connection (flashing firmware – PstRotator control)
I/O for encoders is via RJ45 connector that goes to the board I announced last year.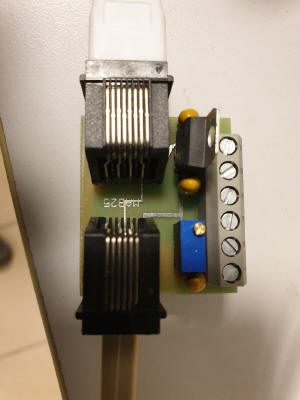 I use 30M cat5e cable between controller and outside box without any problems here.
Both blank boards are available at 20€ + 10€ shipping
All can fit in UFO 7–19-13 metal box from Arabel (+/- 25€) and if there are 20 interested
People I can let Schaeffer produce fronts for it at (+/- 35€).

All info will be written one of the following days 😊 and will pass this to Walter to make a complete document.
Guy ON4AOI – OT7K