Osvědčený obvod pro předpětí vf bipolárního výkonového tranzistoru, sloužící ke zlepšení intermodulačního zkreslení tranzistorového zesilovače.
(Well tested circuit for BIAS of the bipolar RF power tranzistor, developed for improvement of the amplifier intermodulation parameters )
Pro nejlepší intermodulační zkreslení zesilovače nastavte klidový proud tekoucí kolektorem VF výkonového tranzistoru na cca 7 % maximálního napájecího proudu při plném vybuzení. (Osvědčená hodnota se pohybuje okolo 100 až 150 mA). Obvod je umístěn na malé destičce oboustranného plošného spoje při zachování zásad vf konstrukcí tak, aby se zamezilo vnikání vf do obvodu. Je tedy potřebné, aby jedna strana plošného spoje byla nepřerušená zemní plocha, kam se uzemní všechny příslušné vývody.
For best performance of the intermodulations please adjust quiescent collector current of the RF bipolar transistor at aproximately 7 % of the maximum supply current within full power. (Usual value would be about 100 to 150 mA). For circuit construction 2 sided small printed board should be used - one side will be ground, where all relevant lead should be grounded. Use principles of good HF construction to eliminate impact of HF energy into circuit.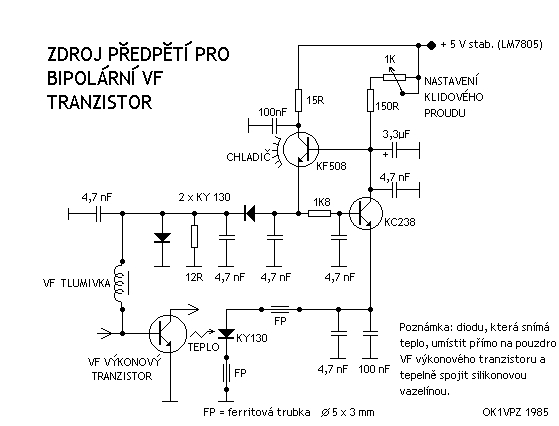 Nastavení klidového proudu = Quiescent current adjustment
Chladič = radiator , ferritová trubka = ferrite bead
Teplo = heat , Vf tlumivka = RF choke
Poznámka: = Note:
heat sensitive diode place on the ceramic body of the power tranzistor and temp.connected by silicon grease.
KY 130 as 1N4001, KC 238 similar to BC 238, KF 508 similar to 2N2222