QRPP EME QSO OK1TEH - W5UN
OK1TEH JO70FD, - 4el yagi after qso with W5UN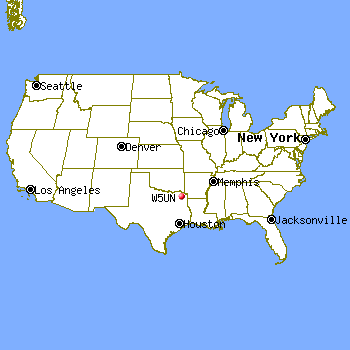 After qso with Gary KB8RQ next station in my EME log was Dave, W5UN. I wkd him on 14th February 2005 on frequency 144.129 MHz in JT65b (wsjt 4.9.2) at 1717-1855 UTC. I used as usually: FT847 + max 100W PA (MRF 141, photos of my PA are here) + 4m long cable + 4el OK1KRC yagi (gain 6.5dB). QRB is 8467km, my new ODX (agn :-). Qso was without any big problems (however not as easy as the one with RN6BN hi:-).
W5UN at OK1TEH - best -22dB
OK1TEH at W5UN - best -26dB
Links:
My eme log: http://www.qsl.net/ok1teh/eme_log.htm 
W5UN - http://web.wt.net/~w5un/ 
4el eme in SP: http://www.qsl.net/sp9ttg/ 
More about my QRPP tests you can see at http://www.home.karneval.cz/00000104/eme.htm.
TNX Dave :-)


73 de Matej, OK1TEH
W5UN ready for take off :-) Dave W5UN