MM0GPZ IO76XA - TROPO REPORT 18-20.12 2007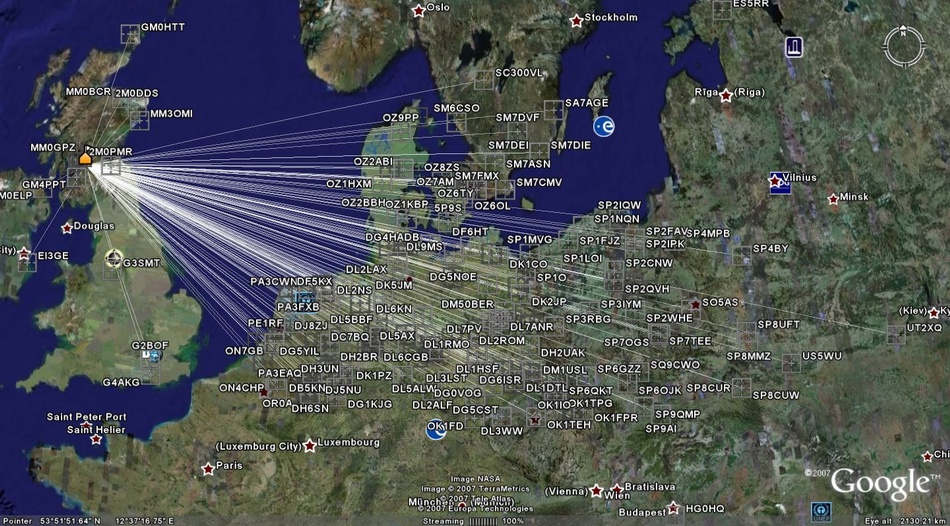 Hi Matej.

Here are my logs for the /P station at IO76XA on 18/19th December 2007 and also for 20/12/07. I have attached logs, maps of all QSO's made. I also have an MP3 of the 1st hours activity on 18/12 but I will forward that later. Myself and my friend Phil GM0LIR took turns to operate the station during the opening.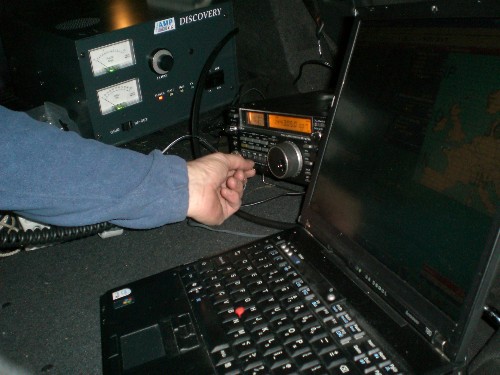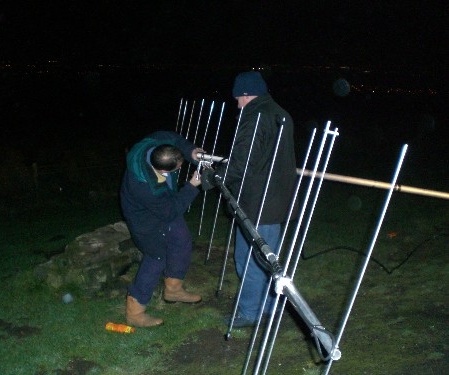 Shack 12el M2 YAGI
As you requested, please find attached my log for my /P operation from IO76XA. This superb QTH is a well known location (to local radio amateurs ) called the Tac Ma Doon Road, in the Campsie Hills above Kilsyth in the North of Glasgow. It is slightly over 1000 feet ASL.
First QSO was at 9:33pm and we managed 165 QSO's (4 dupes) before the laptop battery finally gave up at 1:18am. Best DX was UT2XQ in KO40IG at 2252kms in tropo. He was 59 for real. I'm quite sure we could have worked even further DX if it wasn't for the wall of noise from the nearby countries HI. I am absolutely delighted as there are tons of new squares for me and first QSO over 2000 Kms on any propogation on 2m.

A quick check subject to scrutiny reveals

54 Squares

58 Q's between 500 - 1000 Kms
89 Q's between 1000 - 1500 Kms
21 Q's 1500 - 2000 Kms
1 Q > 2000 Kms

Average distance of all QSO's was 1162 Kms.

All propogation was tropo.

73's Matej and Happy New Year.

Gordon
MM0GPZ

START-OF-LOG: 2.0
CREATED-BY: Win-Test 3.15.0
CONTEST: THF-EU
CALLSIGN: MM0GPZ/P
CATEGORY: SINGLE-OP LIMITED HIGH 
CLAIMED-SCORE: 10075374
OPERATORS: 
CLUB: Mid Lanark ARS
NAME: Gordon Paterson
ADDRESS: 20 Craigmuir Road
ADDRESS: Blantyre
ADDRESS: Glasgow G72 9UA
SOAPBOX: Portable operation from IO76XA taking advantage of the excellent
SOAPBOX: tropo.

MM0GPZ/P IO76XA
----------------------------------------------------
144 2007-12-18 2133 59  001  PE2JMR   JO33HG 59  001 
144 2007-12-18 2134 59  002  DJ5LY    JO44XI 59  001 
144 2007-12-18 2134 59  003  DM5JL    JO70HX 59  001 
144 2007-12-18 2136 59  004  DD0VF    JO61WB 59  001 
144 2007-12-18 2136 59  005  DL9ABF   JO51IX 59  001 
144 2007-12-18 2138 57  006  SP2FAV   JO94MA 59  001 
144 2007-12-18 2139 59  007  SP8UFT   KO11JI 59  001 
144 2007-12-18 2140 59  008  SP3MGM   JO73QE 59  001 
144 2007-12-18 2140 59  009  DL7ANR   JO62QM 59  001 
144 2007-12-18 2141 59  010  PA3FXB   JO33KC 59  001 
144 2007-12-18 2142 59  011  DK5E     JO42FA 59  001 
144 2007-12-18 2142 59  012  DL5ME    JO52SD 57  001 
144 2007-12-18 2143 59  013  OK1ZHS   JO70VA 59  001 
144 2007-12-18 2144 59  014  OK1AVQ   JO70OR 59  001 
144 2007-12-18 2145 59  015  OZ2PBS   JO55XJ 59  001 
144 2007-12-18 2146 59  016  DL3BQA   JO73CF 59  001 
144 2007-12-18 2148 59  017  SP2MKO   JO93CB 59  001 
144 2007-12-18 2149 59  018  US5WU    KO20DI 57  001 
144 2007-12-18 2149 59  019  SP8MMZ   KO11JC 59  001 
144 2007-12-18 2151 59  020  DL1YAH   JO41DX 59  001 
144 2007-12-18 2152 59  021  SP6GZZ   JO80FX 59  001 
144 2007-12-18 2152 59  022  SP6LTC   JO70TV 59  001 
144 2007-12-18 2153 59  023  SP1NQN   JO84ML 59  001 
144 2007-12-18 2153 59  024  SP2CNW   JO93AI 59  001 
144 2007-12-18 2154 59  025  SP6HED   JO80IL 59  001 
144 2007-12-18 2155 55  026  OK1MHZ   JO70VA 55  001 
144 2007-12-18 2157 55  027  SP6GWB   JO80HK 55  001 
144 2007-12-18 2158 59  028  SP1FJZ   JO84EE 59  001 
144 2007-12-18 2158 59  029  SP2IPK   JO93LR 59  001 
144 2007-12-18 2159 59  030  SP1MVG   JO73JX 59  001 
144 2007-12-18 2200 59  031  DK1CO    JO63SX 59  003 
144 2007-12-18 2200 59  032  SP2NJI   JO92OS 59  005 
144 2007-12-18 2201 59  033  DJ4QO    JO42FB 59  006 
144 2007-12-18 2202 59  034  DG0VOG   JO60LX 59  006 
144 2007-12-18 2202 59  035  DL7PV    JO62NL 59  005 
144 2007-12-18 2204 59  036  UT2XQ    KO40IG 59  006 
144 2007-12-18 2208 59  037  SP7TEE   JO91QR 59  006 
144 2007-12-18 2209 59  038  SP6FXF   JO70VV 59  004 
144 2007-12-18 2210 59  039  DH2UAK   JO71FU 59  006 
144 2007-12-18 2211 59  040  DL5DF    JO51JU 59  006 
144 2007-12-18 2211 59  041  DL5AX    JO52GF 59  006 
144 2007-12-18 2212 59  042  DL1SUZ   JO53UN 59  006 
144 2007-12-18 2213 59  043  DG6ISR   JO61PK 59  006 
144 2007-12-18 2214 59  044  SP7OGR   KO01AL 59  007 
144 2007-12-18 2214 59  045  DL6KN    JO52FQ 59  006 
144 2007-12-18 2215 59  046  SM7DIE   JO76TH 59  007 
144 2007-12-18 2217 59  047  OZ1CLL   JO65GQ 59  006 
144 2007-12-18 2217 59  048  DL1RMO   JO62HD 59  006 
144 2007-12-18 2218 59  049  DC6UW    JO44VJ 59  006 
144 2007-12-18 2219 59  050  DH6SN    JO30BU 59  006 
144 2007-12-18 2220 59  051  SP4SAS   JO93XQ 57  008 
144 2007-12-18 2220 59  052  DJ9OI    JO44OI 59  006 
144 2007-12-18 2221 59  053  DJ8ZJ    JO32OH 59  006 
144 2007-12-18 2222 59  054  SP6OJK   JO80XQ 59  006 
144 2007-12-18 2224 59  055  SP2JVT   JO92IW 59  006 
144 2007-12-18 2225 59  056  OK1IO    JO70OR 59  006 
144 2007-12-18 2226 59  057  DL3WW    JO60OF 59  006 
144 2007-12-18 2226 59  058  ON7GB    JO22IA 59  006 
144 2007-12-18 2227 59  059  DF8IK    JO30JT 59  007 
144 2007-12-18 2227 59  060  DL3LST   JO61FI 59  007 
144 2007-12-18 2228 59  061  OZ6OL    JO65DJ 59  007 
144 2007-12-18 2229 59  062  DL1EAP   JO31IK 59  006 
144 2007-12-18 2229 59  063  OK1MIQ   JO70OR 59  006 
144 2007-12-18 2230 59  064  SP9AI    JN99MT 59  006 
144 2007-12-18 2230 59  065  DH3UN    JO31TL 59  006 
144 2007-12-18 2233 59  066  SP6IWQ   JO80HK 59  006 
144 2007-12-18 2233 59  067  SP6QKT   JO70QV 59  007 
144 2007-12-18 2234 59  068  DK5AL    JO51CR 59  007 
144 2007-12-18 2235 59  069  SM7DVF   JO76JU 59  007 
144 2007-12-18 2236 59  070  DK5DQ    JO31   59  007 
144 2007-12-18 2239 59  071  DL1HTT   JO61FR 59  007 
144 2007-12-18 2240 52  072  OK1FD    JO60CF 53  007 
144 2007-12-18 2240 59  073  DC2OD    JO42VG 57  007 
144 2007-12-18 2241 59  074  SM7ASN   JO66UD 59  007 
144 2007-12-18 2242 59  075  PA3FTX   JO21DN 59  007 
144 2007-12-18 2243 55  076  SP3RBG   JO72RF 57  007 
144 2007-12-18 2244 59  077  SQ2SAT   JO93AC 59  007 
144 2007-12-18 2244 59  078  PA3EAQ   JO31CI 59  007 
144 2007-12-18 2245 59  079  DK5JM    JO43QS 59  007 
144 2007-12-18 2247 59  080  GM0ELP   IO75AA 59  007 
144 2007-12-18 2247 59  081  OK1KT    JO70WE 59  007 
144 2007-12-18 2248 59  082  PB0AHX   JO22EA 57  007 
144 2007-12-18 2249 59  083  PE1KXH   JO21XD 59  007 
144 2007-12-18 2250 59  084  DG1KJG   JO30NT 59  007 
144 2007-12-18 2250 52  085  OK1ACF   JO70WF 57  007 
144 2007-12-18 2251 59  086  OK1TPF   JO70NO 55  007 
144 2007-12-18 2251 59  087  OZ2TF    JO46PE 59  007 
144 2007-12-18 2252 59  088  DL7OK    JO31KL 59  007 
144 2007-12-18 2252 59  089  DL2NS    JO43LD 59  007 
144 2007-12-18 2253 59  090  DD3SP    JO72EN 59  007 
144 2007-12-18 2254 59  091  DB5KN    JO31NA 59  007 
144 2007-12-18 2255 59  092  ON4CHP   JO21JD 59  007 
144 2007-12-18 2256 59  093  PA0DDB   JO32KE 59  007 
144 2007-12-18 2257 59  094  DH2BR    JO41NW 59  007 
144 2007-12-18 2258 59  095  SP3IYM   JO82KL 59  007 
144 2007-12-18 2259 59  096  DL2LAX   JO43SX 59  007 
144 2007-12-18 2300 59  097  OZ1HXM   JO45LT 59  007 
144 2007-12-18 2300 59  098  OZ1KBP   JO44XX 59  007 
144 2007-12-18 2301 59  099  SP2QVH   JO83XC 59  007 
144 2007-12-18 2302 59  100  SP4BY    KO13OD 59  007 
144 2007-12-18 2303 57  101  SQ9CWO   JO90FV 59  007 
144 2007-12-18 2303 59  102  SP1LOI   JO73TP 59  007 
144 2007-12-18 2304 57  103  DO5OT    JO62WL 59  007 
144 2007-12-18 2305 59  104  DG4OAI   JO52AA 59  007 
144 2007-12-18 2307 55  105  SP7VVB   JO91RR 55  007 
144 2007-12-18 2308 55  106  SP7OGS   JO91RQ 57  007 
144 2007-12-18 2308 59  107  SP1O     JO73GK 59  007 
144 2007-12-18 2311 51  108  SP9QMP   JO90FB 55  007 
144 2007-12-18 2311 55  109  OK1FPR   JO80CE 55  007 
144 2007-12-18 2312 59  110  OZ6TY    JO55XE 59  007 
144 2007-12-18 2313 59  111  SP9QMP   JO90FB 55  007 
144 2007-12-18 2314 57  112  SP1YSZ   JO73GJ 57  007 
144 2007-12-18 2315 59  113  SP2IQW   JO94GM 55  007 
144 2007-12-18 2316 59  114  DL2ROM   JO62RI 59  007 
144 2007-12-18 2316 59  115  PE1GNP   JO31IX 59  007 
144 2007-12-18 2317 59  116  DL1KWS   JO31CC 59  007 
144 2007-12-18 2317 59  117  OR0A     JO20KW 59  007 
144 2007-12-18 2318 59  118  DJ5NU    JO31QH 59  007 
144 2007-12-18 2318 59  119  DC0DHD   JO31CC 59  007 
144 2007-12-18 2319 59  120  OZ2M     JO65FR 59  007 
144 2007-12-18 2321 59  121  OZ2PJ    JO65ER 59  007 
144 2007-12-18 2321 55  122  PD1ANH   JO33GK 59  007 
144 2007-12-18 2322 59  123  DL3BRS   JO72GH 59  007 
144 2007-12-18 2323 59  124  EI3GE    IO63XD 59  007 
144 2007-12-18 2324 59  125  OZ1AOO   JO65GR 59  007 
144 2007-12-18 2325 59  126  PE1RF    JO22RM 59  007 
144 2007-12-18 2326 59  127  DK2JP    JO73DB 59  007 
144 2007-12-18 2326 59  128  DC7BQ    JO42JF 59  007 
144 2007-12-18 2327 59  129  DF6HT    JO64FG 59  007 
144 2007-12-18 2329 53  130  DL2ALF   JO50IW 55  007 
144 2007-12-18 2330 55  131  DG3DX    JO31PG 55  007 
144 2007-12-18 2332 55  132  DL1HSF   JO61FR 58  007 
144 2007-12-18 2333 55  133  DL5ALW   JO51PD 59  007 
144 2007-12-18 2334 55  134  DM1USL   JO71FG 55  007 
144 2007-12-18 2335 55  135  DO5BI    JO42GC 59  007 
144 2007-12-18 2336 55  136  PD4JD    JO20XW 55  007 
144 2007-12-18 2338 59  137  DM50BER  JO62TQ 55  007 
144 2007-12-18 2340 59  138  DL8BDU   JO43AA 59  006 
144 2007-12-18 2344 59  139  PA4SDV   JO22JI 59  007 
144 2007-12-18 2345 59  140  DL1DRP   JO71EE 59  007 
144 2007-12-18 2356 59  141  DG5NOE   JO63MI 59  007 
144 2007-12-18 2359 59  142  GM0FFB   IO75RT 59  007 

144 2007-12-19 0006 59  143  GM4CXM   IO75TW 59  001 
144 2007-12-19 0007 59  144  SM6CSO   JO67CE 59  005 
144 2007-12-19 0008 59  145  SA7AGE   JO87FG 59  006 
144 2007-12-19 0010 59  146  PD0KCQ   JO23OI 52  005 
144 2007-12-19 0012 55  147  DF5KX    JO33QI 55  007 
144 2007-12-19 0021 59  148  SF7WT    JO65QQ 59  007 
144 2007-12-19 0022 59  149  DL9QY    JO42IO 59  007 
144 2007-12-19 0023 449 150  DK4KW    JO60EM 599 055 CW
144 2007-12-19 0024 59  151  DK1PZ    JO41TH 57  008 
144 2007-12-19 0026 59  152  OZ1MAX   JO57GI 59  007 
144 2007-12-19 0030 59  153  DH6SN    JO30BU 59  007 
144 2007-12-19 0033 55  154  SP7HKK   JO91QI 55  006 
144 2007-12-19 0036 59  155  2M0PMR   IO85MU 59  006 
144 2007-12-19 0041 59  156  PE1OPK   JO23UE 59  007 
144 2007-12-19 0042 55  157  SO5AS    KO02JD 59  007 
144 2007-12-19 0043 59  158  DL9MS    JO54VC 59  007 
144 2007-12-19 0044 59  159  OZ2BBH   JO45SE 59  007 
144 2007-12-19 0100 55  160  DC6IA    JO30IV 59  007 
144 2007-12-19 0102 55  161  OK1TPG   JO70PO 59  007 
144 2007-12-19 0104 53  162  OK1TEH   JO70AA 52  007 
144 2007-12-19 0105 59  163  OZ2ABI   JO46WD 59  007 
144 2007-12-19 0107 59  164  SM7FMX   JO65KN 59  007 
144 2007-12-19 0109 55  165  OK1TEH   JO70FD 55  007 
144 2007-12-19 0111 53  166  SA7AGE   JO87FG 53  007 
144 2007-12-19 0112 59  167  DL6CGB   JO51MV 59  007 
144 2007-12-19 0114 59  168  PD0DK    JO31AH 59  007 
144 2007-12-19 0116 59  169  PA1TNO   JO22LI 59  007 

144 2007-12-20 1304 59  001  OZ9PP    JO47VA 59  001 
144 2007-12-20 1315 59  002  SM7DEI   JO76TH 56  001 
144 2007-12-20 1316 55  003  DL4KUG   JO64PB 55  001 
144 2007-12-20 1317 57  004  OZ2BBH   JO45SE 57  001 
144 2007-12-20 1318 52  005  OZ7DX    JO66DA 56  001 
144 2007-12-20 1320 59  006  SF7WT    JO65QQ 59  001 
144 2007-12-20 1321 57  007  OZ1CLL   JO65GQ 55  001 
144 2007-12-20 1325 59  008  5P9S     JO54TU 59  001 
144 2007-12-20 1326 57  009  OZ8ZS    JO55RT 59  001 
144 2007-12-20 1343 53  010  OK1AJY   JO70PO 53  001 
144 2007-12-20 1352 57  011  OZ6YM    JO65AT 57  001 
144 2007-12-20 1404 59  012  OZ7AM    JO65EO 59  001 
144 2007-12-20 1415 53  013  SM7CMV   JO75AM 57  001 
144 2007-12-20 1421 54  014  GM0HTT   IO89JC 54  001 
144 2007-12-20 1440 59  015  OK1AJY   JO70PM 55  001 
144 2007-12-20 1447 52  016  DL1DTL   JO61VB 57  001 
144 2007-12-20 1449 59  017  SP2OFW   JO93AC 59  001 
144 2007-12-20 1451 57  018  DL1RNW   JO62GH 57  001 
144 2007-12-20 1451 59  019  GM4PPT   IO75SK 59  001 
144 2007-12-20 1455 53  020  SP2WHE   JO92HI 52  001 
144 2007-12-20 1457 52  021  SP8CUR   KO10CB 55  001 
144 2007-12-20 1459 51  022  DL9ABF   JO51IX 51  001 
144 2007-12-20 1500 57  023  DL5BBF   JO42LT 57  001 
144 2007-12-20 1501 57  024  DG5CST   JO60DS 55  001 
144 2007-12-20 1502 52  025  SP8CUW   KO10CB 55  001 
144 2007-12-20 1509 59  026  GM4WZL   IO75OI 59  001 
144 2007-12-20 1514 57  027  G2BOF    IO91VI 56  001 
144 2007-12-20 1519 55  028  G4AKG    IO90WX 59  001 
144 2007-12-20 1525 549 029  DL4DWA   JO61QH 51  001 
144 2007-12-20 1530 55  030  DG4HADB  JO54KI 52  001 
144 2007-12-20 1531 57  031  DN3UL    JO60UX 59  001 
144 2007-12-20 1532 55  032  SP4MPB   KO03HT 55  001 
144 2007-12-20 1535 57  033  DL5YEE   JO42GF 57  001 
144 2007-12-20 1538 59  034  DL3NZC   JO22AA 58  001

END-OF-LOG: